We've put together a team of highly qualified, creative individuals in order to provide our clients with innovative, yet cost effective designs.
Lisa A. Thorburn, CTS, LEED-AP
Founding Principal


Lisa has served as a project manager and consultant on numerous projects. Her background covers Multimedia Presentation Requirements, Video and Teleconferencing, Computer Programming, Technical Communications, and Project and Business Management. Her communication skills allow her to translate technical data into a format that is both usable and understandable by the client and the rest of the design team. As head of the leadership team and a principal consultant of Thorburn Associates, she works to determine strategies, set overall project goals and objectives, and offers her planning expertise during design development.
In her spare time she enjoys spending time in and on the water, walking, or reading a good book.
Read Full Profile
Read Bio
Steven J. Thorburn, PE, LEED AP, CTS-D, CTS-I
Founding Principal, Design Principal


Steve enjoys helping others understand the principals of acoustics and technology systems. A key member of the leadership team, he is a licensed engineer with 30+ years experience in the architectural application of acoustic, audiovisual technology and lighting systems. His dual degrees in electrical engineering and technical theatre give him a balanced left brain/right brain approach to project solutions.
Educator of the Year, two ICIA Facility Design awards, author and teacher and experience on over 3000 different projects round out his professional career.
Steve loves working in his woodshop, cooking something up on the grill, or just hiking in the woods.
Read Full Profile
Read Bio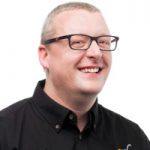 Kalen Larson
Managing Principal


Kalen Larson is Managing Principal of Thorburn Associates, an engineering firm specializing in Acoustics, Audiovisual, and Lighting Design. With over 16 years of experience with management, operations, and design experience, he has served as a tenured Associate Professor (ranked in the top 10% of instructors on campus) and was recognized for the innovate design of his hybrid courses.
He has been a part of technical teams around the world creating special effects of live performer flight. Select national tours include SpongeBob SquarePants: The Broadway Musical, Elf the Musical, Finding Neverland, Wizard of Oz, and Wicked.
Kalen has been a voting member of the ESTA technical standards program, establishing ANSI standards for theatre and served as a Subject Matter Expert (SME) for the ETCP certification program. Publications include "Proscenium Sized Butterfly Wings" and "Fauxberglass: An Inexpensive Alternative to Fiberglass".
Kalen holds a dual Bachelor of Arts degree in Theatre and Art from Siena Heights University; his MFA from University of North Carolina at Chapel Hill; and his Executive MBA from Quantic School of Business and Technology.
Read Bio